Presentations on building more productive soil and soil carbon

---
Added one year ago
Presentations on building more productive soil and soil carbon
The Hawke's Bay Future Farming Trust is sponsoring three presentations offering an introduction to alternative pasture and grazing systems that can regenerate better soils and build soil carbon on your farm.

Our presenter is Siobhan Griffin.
Siobhan has spent 25 years managing her own farm, learning that working with nature gets the best results. She coaches farmers to build topsoil working with their livestock, grazing deep-rooted and diverse pastures to build and regenerate soil carbon on New Zealand sheep/beef and dairy farms.
Originally from the USA, Siobhan now lives in New Zealand and understands New Zealand pastoral farming systems.
Throughout her presentations, Siobhan gives New Zealand working examples of what outcomes look like, followed by Q&A with refreshments.

Here are the three presentations dates, times, locations:

Date: Tuesday 20th July 2021
Time: 4.30 -6.30pm
Venue: Rissington Breedlines Offices, 55 Soldier Settlement Road, Rissington
July 20 presentation hosted by Mangaone Catchment Group for Hill Country Sheep/Beef and Dairy farmers.

Date: Thursday 22nd July 2021
Time: 2.30pm to 4.30pm
Venue: Wairoa Community Centre, 33 Marine Parade, Wairoa.

This presentation will focus on flat intensive through to steep hill country stations.

Date: Friday 23rd July 2021
Time: 10am to 12 noon (tea/coffee and morning tea food from 11am)
Venue: Waipukurau Club, 10 Russell Street, Waipukurau.

The CHB presentation will focus on Sheep/Beef and Dairy farming.

To register for any of these presentations, just email us your name and which event you will attend.
More intensive full-day sessions, including field trip, are also on offer from Siobhan in July, sponsored by the Hawke's Bay regen ag group. One outside havelock North, the other in Takapau. Details below.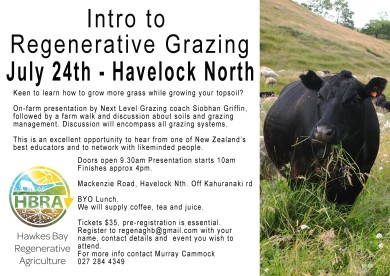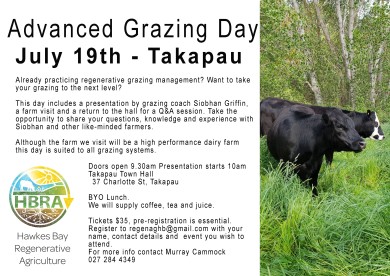 ---
Join the conversation
Be the first to leave a comment.
Leave a comment
All comments are reviewed before they are published on the website. Your email address will not be published.
More News