Wool pillows ... invented in CHB

---
Added one year ago
Maven of the wool industry Philippa Wright has been blown away by the success of her new business venture, Wright Wool Pillows.
The pillows, which Wright describes as luxury, high-quality and sustainable, turn low-value strong wool into a sought after value-added product.
"The uptake and demand from a little bit of publicity has been extraordinary. Our team is flat out producing pillows."
Demand is widespread, with a wide variety of buyers from the top of the North Island to the deep South. Interest is from people interested in sustainability and reducing their plastic use, as well as people who know wool and understand its value, Wright says.
"It's harder to find a use for cross-bred wool. Using strong wool for something as simple as a pillow is making people feel excited. It's also supporting the industry, and demonstrating the benefit of wool."
Wright says the popularity of the pillows has caught her by surprise.
"I was looking for something to boost our team's morale. The past couple of years has been tough. Covid, the Chinese market, freight issues, and now what is happening in Ukraine.
"This is a fun venture to make us feel we're doing something positive. There's been huge local support and even people turning up at our premises in Waipukurau to buy pillows!"
Christchurch company Joma Wool processes the strong wool, giving it a crimp, which increases the wool's volume by 40-50% without adding weight and creates a permanent bounce, allowing the wool to hold its shape. Wright calls the crimped wool "pearls". It's then shipped to Waipukurau and the pillows are handmade by the Wright Wool team. So far, they've made and sold more than 1,000.
Passionate about wool and the wool industry, Wright says the point of the product is its simplicity.
"I want it to be local, bespoke, and sustainable. The pillows are great to sleep on and keep temperatures from rising in the bedroom as well."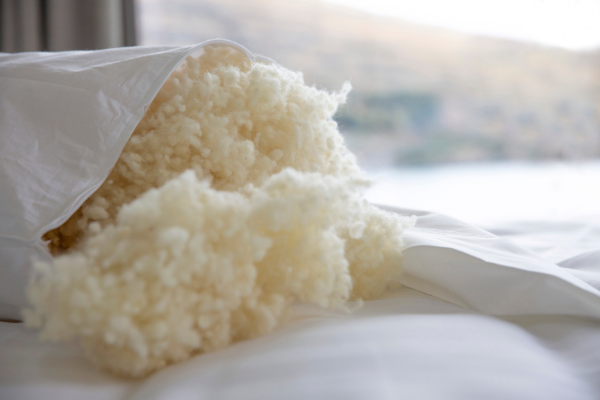 The wool filling is proven to help people fall asleep faster and stay asleep for longer. There are two pillows in the range, a standard size ($99) and a larger deluxe offering for the broad shouldered ($145).
At this stage, Wright has no plans to expand the range, as products like wool mattress toppers would require additional machinery.
Wright Wool Pillows are available online at www.wrightwool.co.nz and by calling in at Wright Wool Coughlan Road.
---
Join the conversation
Be the first to leave a comment.
Leave a comment
All comments are reviewed before they are published on the website. Your email address will not be published.
More News