Vision
To make Hawke's Bay farming the pride of our entire community.
Mission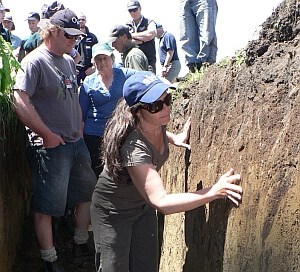 Promote, inspire and celebrate profitable farming systems that enrich the environment and the community.
Given our Mission, the Trust is pleased to associate itself with the vision expressed by the 'Fit For A Better World' initiative.
History
The 'Future Farming Initiative' was adopted and funded with $600,000 over three years in the Hawke's Bay Regional Council's 2018 Long Term Plan. A working party was established to flesh out the permanent organisation structure and anticipated programme for this undertaking, culminating in formal establishment of the Hawke's Bay Future Farming Trust in September 2019. At that point, nine Trustees were selected (including one appointed by the HBRC), remaining allocated Council funds (approx.. $500,000) were transferred to the Trust, and the Trust commenced activities.
Scope of activities
1. Know the relevant working environment
Identify similar projects/initiatives and, if appropriate adapt from and/or partner
with them.
Monitor literature for pertinent research, case studies, innovation, demonstrations
Monitor disruptive trends, technologies, consumer expectations
2. Generate HAWKE'S BAY hands-on knowledge focused on innovation
Sponsor on-farm demonstration/pilot projects, including outcome measurement.
From focused interventions (e.g., improving soil biology) to optimal integrated farming systems
3. Spread knowledge: Continuously improve farm practices by developing tools, tactics and
incentives for effective outreach and education
Identify, publicly recognize and promote Hawke's Bay best practices,
practitioners and champions
Identify and promote non-Hawke's Bay/New Zealand practices with potential
upside relevance to Hawke's Bay
Encourage/support sub-catchment farmer/grower-led initiatives
Liaison with Hawke's Bay Regional Council Integrated Catchment Management
programme/teams.
Conduct education and extension activities for all farming sectors.
4. Establish ambitious goals for superior performance by the primary sector (i.e., what do
we want Hawke's Bay's best performance to look like in the future?)
Soil Health
Clean Waters
Food Quality
Animal Welfare
Biosecurity
Profitability
5. Build a regional brand/celebrated identity around superior HAWKE'S BAY agricultural performance and proud, resilient rural communities.
6. Advise Hawkes Bay Regional Council on policy, funding and regulatory matters relevant to the FFI mission.
7. Seek external funding to accomplish/expand these activities from:
Local and central Government
Industry/sector groups
Service users
Philanthropy.