O'Connor vs Oram on NZ agriculture
The Grand Ballroom at Toitoi was filled last week to hear Agriculture Minister Damien O'Connor and journalist Rod Oram discuss the future direction and challenges for agriculture in the context of climate change. Here's what they had to say.
New Zealand is on the path to a low emissions, climate resilient future, and the Government has set a target for net zero greenhouse gas emissions by 2050 (other than for biogenic methane).
The primary sector has a big role to play in meeting our emissions' target. Te hau mārohi ki anamata, New Zealand's first emissions reduction plan, notes that Agricultural emissions make up 50% of our country's gross emissions, including most of our emissions of nitrous oxide and biogenic methane.
Minister O'Connor talked about the stark facts of climate change, but was optimistic. He outlined a vision for Aotearoa New Zealand to become "Aotearoa Net Zero", saying that now it's the time to "be the best farmers in the world, and the best people for the world" through our climate change efforts.
"There's huge value in aspiring to achieve these (net carbon) goals … we have to think we can achieve them."
O'Connor was confident of meeting emissions targets, saying that "If we commit to a target, we're going to get there". He went on to point out that New Zealand would have to "write cheques" if it didn't meet its emissions goals.
There was a need to accept the facts, and head to a better place, he says.
"New Zealand's farming sector has to move from volume to values. We have an exciting future as a food and fibre producing nation, and the rest of the world wants to connect with us because of our values.
"It's the values that are behind the product, the story. We have to get out there and tell the story."
O'Connor cited programmes such as 'Taste pure nature' and Silver Fern Farms' Zero Carbon' as two current examples of storytelling.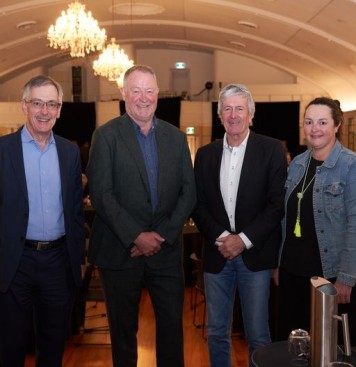 "And if we can build our reputation, make the improvements that we all know are necessary then I think we can be the best country for the world. In hindsight, we might have done it a little better, but we can't turn back the clock, but what we can do is accept the facts, and apply wisdom and experience to take us to a better place."
Rod Oram informed and motivated the audience with his well-researched presentation "Reinventing paradise – farmers' best business opportunity ever".
He outlined the climate change challenge and the opportunity facing farmers, the risks humanity is creating, why they are escalating, and what it all means for New Zealand.
Climate change risk isn't fully understood: a World Economic Forum (WEF) poll of 12,000 business leaders in 124 countries had climate action failure as the number one risk in 10 countries, the #2 risk in three countries, the #4 risk in six countries and the #5 risk in five nations. In contrast, NZ business leaders placed cyber security risk as their top threat.
Oram also cited the WEF's Global Risks Report that showed within five to ten years the top risks facing the planet will all be environmental:
Climate action failure 42%
Extreme weather 32.4%
Biodiversity loss 27%
Natural resource crisis 23%
Human environmental damage 21.7%
In respect of our assessment of climate change risk, Oram says that New Zealand is "a laggard compared to some of our farming competitors".
The climate impacts from farming, and on farming are rising. A 2021 study found that climate change is impacting global farming, with productivity falling 21% since the 1960s.
Oram says that the "global food system is out of whack, and we're part of it … "We need a bigger goal and to be moving faster."
He calls for radical reinvention, saying that even with zero future damage that ecosystems would still be depleted, and that "regenerative agriculture is the direction of travel, that helps ecosystems to recover and regenerate, and that healthy ecosystems equalled healthy food, and a healthy planet."
Yet Oram is surprisingly upbeat about the opportunities. We have an abundance of natural capital per capita, he says, and New Zealand can be a leader in fast ecosystem regeneration, through matauranga Māori (indigenous knowledge) and western science working together.
"Working with nature is a massive challenge for all of New Zealand, city and country alike, and achieving it is a massive business opportunity."
You can view Oram's presentation for yourself on the Future Farming Trust's website.. (link)
Q&As
Of course, the devil is in the detail, and at this stage the ag sector awaits the Government's specifics. Farmers need to know what it's going to cost, and exactly how some of the objectives outlined for agriculture in Te hau mārohi ki anamata will play out.
In Q&A after the event, O'Connor said there are consistent premiums for produce with regenerative farming credentials in markets like the US, where the term is associated with a more holistic approach to farming systems. "There's an international commitment to more holistic farming systems, be they organic or regenerative, in the developed world."
On whether farmers might not be changing fast enough he said: "New Zealand farmers have always changed, quite quickly. They've seized upon the opportunities such as the demand for dairy product, but they've also started to realise the environmental limits. We're bringing in guidelines for carbon sequestration … what we need to do is give the sector clear guidelines, so they can adapt to those, and get on and seize the opportunities in the market.
Responding to Oram's view that New Zealand wasn't moving fast enough, O'Connor says the Government has committed hundreds of millions of dollars in extension services, and investing in technology, ($380m into the Centre for Climate Change). "We're putting a whole lot in, as is industry. You might say 'we can always move faster' but these are biological systems, and we'll investigate every opportunity to make that transition as quickly as we can.
"Science has a big role to play," says O'Connor. "We're working with the CRIs, and the Centre for Climate Action on Agriculture Emissions (a JV between industry and Government) that will first reach out to all the science and technology around the world to make sure that we know what it is and then apply it to our farming systems."
He mentioned a technology from the Netherlands that was a nitrous oxide inhibitor, run in systems for housed animals, the view is that it can be used in our pastoral systems. "So we're working through validation, to make sure it doesn't affect the food systems, and then making sure we can apply it. There are a number of technologies that need adaptation to New Zealand systems."
In the future, New Zealand can assist the world not only with low carbon food, but also with low carbon farming systems, he concluded. O'Connor says the reputation New Zealand produce enjoys will last "as long as we continue to stay ahead of the curve".
"The values around emissions reductions are emerging across the globe. The big supermarket chains are looking for it and we have to meet their expectations," O'Connor concludes.
The Trust has had positive feedback from the minister, presenters, and attendees, asking for more of this type of event. In Q&A the audience was interested to discuss soil carbon, concerns around forestry expansion on farmland, emissions, and climate change.
Thanks to our Keystone Sponsors: Hawke's Bay Regional Council, Napier Port, Bayleys Country, and Hastings District Council.
You can view Rod Oram's presentation here.